You would be perfect for my Christmas party!
Yes... I talk to my clothes sometimes. Our Christmas party at work is not really on the formal side...so this top is perfect, I love it. Now I need to find the other half, which I'm sure won't be a problem.
'This crinkled charmeuse shell comes in a fiery copper accented with a beaded lace bloom above its velvet waistband. $118.'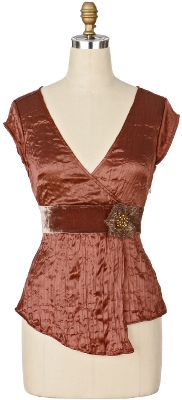 I would definitely wear these
frozen bough earrings
. I wonder if they are heavy.. I hate earrings that stretch your earlobes...that's so not the look I want. These are really pretty, I'll have to check them out in person.
'Linked gold branches tremble with mandarine, garnet, and bear quartz. By Alexis Bittar. Gold filled hooks $198.'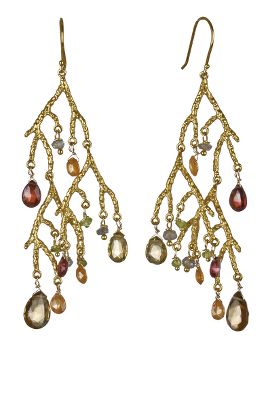 Ok.. you may be a possibility.... I have to check you out a bit more.
Lake effect skirt