gold rush....
Wouldn't you love to receive this bracelet as a gift! I know I would. I'm so rough on my jewelery and this bracelet looks like it's sturdy enough to withstand my not-so-gentle touch.
It's called the
Pearl Talisman.....
$188.00
'Three strands of 14k gold fill links, stamped with pretty patterns, meander around the wrist. A lustrous bauble of freshwater and faux pearls, fitted with a single rhinestone starburst, tumbles from the toggle closure. 9"l. USA.'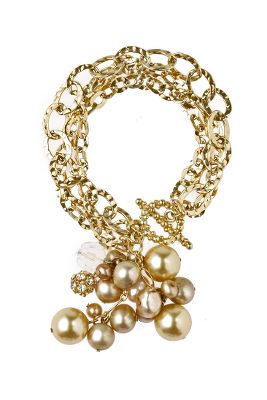 PS.. - Could you get a few more rings Anthropologie?... the selection is truly lacking.