Pillow fight .... Anthropologie style
I am a pillow person... I just love to be surrounded by lots of beautiful pillows. My husband is always throwing them at me, so he can make room to get into his side of the bed. He can't understand why we need sooo many pillows. And I don't feel the need to explain....actually, it would be pointless to try and explain to him. : ) I've been there. He says 'you only sleep with 1 or 2 pillows at most'. I say ' these pillow are not for sleeping they are for asthetics'. He says..'what the heck are you talking about'. You see where this goes.
Here's Anthropologie's
bejeweled teal pillow
.
'As precious as a pincushion - only just a wee bit bigger. Made of raw silk, with metallic embroidery. Zip closure. 9"l, 7"w. Imported.' $28.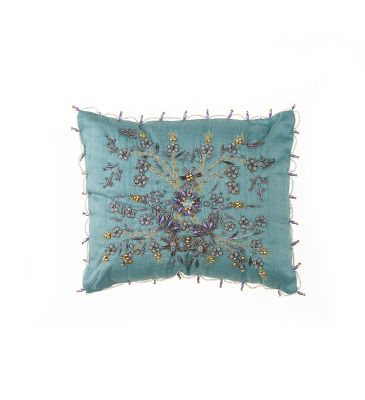 ethnic floral floor cushions
'Colored and printed in brilliant hues, these closed cushions are designed for outdoor use. 21"sq, 5"d. Spot clean. Green/turquoise. Imported. $40.'