Already Christmas!
Remember the good ole days when you didn't see Christmas stuff till after Thanksgiving or atleast the week of. Well that's long gone.
So I guess I should start, since its almost mid-November. I just feel stressed when I think of all the gifts I have to buy. And I always seem to buy a gift for me everytime I buy one for someone else..do you see how expensive this can get? : )
I do need some pretty new ornaments! Please do not even mention the upside down tree... I think its crazy. My tree will remain upright. : )
beveled glass ornament set
These luminous glass forms are a majestic addition to any tree. Lightly ribbed and tinted with just a hint of color, they reflect twinkling holiday lights and good tidings as they hang suspended from shimmering organdy ribbons. Set of 3. Blue, moss, yellow-green. 6"l, 2.25"dia. Imported
. $21..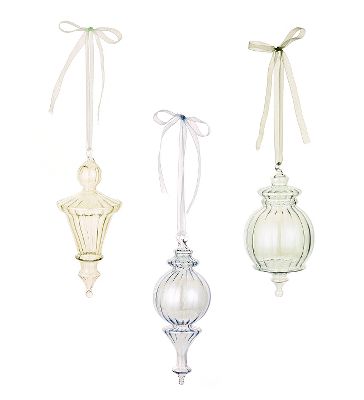 Or what about this wreath like collection of metallic ornaments....you can hang it up or use it as a table centerpiece!
glitter-and-shine garland
An ebullient chorus of classic metallic Christmas tree ornaments to hang or feature as a table-top centerpiece. 15"dia. 8"dia. interior. USA. $68.00