DOMINO mag...fabulous, scrumptious!
Don't worry, I never use the word scrumptious in real life.. But I swear I can't say enough great things about Domino Magazine and especially September's issue. Domino Rocks! Though I subscribe to the mag, it doesn't always arrive to my lovely mailbox before it hits the stands. (hardly ever).

So YES I had to buy it... YES even though I know I will be getting it in the mail. I have serious issues. This is how ridiculous I am. I could not leave the magazine in the store it was so great. And the same day I go home from Barnes and Nobles, there it is in my mailbox. I just brought one copy to work, so I can drool while sitting at my desk too.


Now on to the goods. On page 175, you have the ever so great Domino deals. I noticed they had an Anna Corinna tote Retail: $388...Domino deal is $291...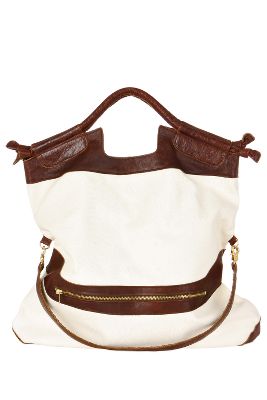 When I saw this bag, I knew instantly I'd seen it at Anthropologie.....so I go online and lo & behold its
on sale for $249... How awesome right?
go get it ladies..... sweet deal.